1. RESPONSIBLE EDITOR
European Lithium Institute AISBL (hereafter "eLi" or "we"), whose office is located at 1000 Brussels, Rue Royale 94, Belgium, and registered in the Belgian company register under the number 0751.577.279, is the responsible editor for the website https://www.lithium-institute.eu (hereafter the "Website").
You may contact us by:
– sending a letter to Dr. Andreas Bittner, Rue Royale 94, 1000 Brussels, Belgium
– sending an e-mail to info@lithium-institute.eu
2. GENERAL INFORMATION
The information provided by eLi on the Website is for general informational purposes only.
We make every reasonable effort to ensure that the content of this Website is kept up to date, and that it is accurate and complete. Nevertheless, the possibility of errors cannot be entirely ruled out. All information on the Website is provided "as is" in good faith, without representation or warranty of any kind, express or implied, regarding the accuracy, adequacy, validity, reliability, availability or completeness of any information on the Website.
Under no circumstance shall we have any liability to you for any loss or damage of any kind incurred as a result of the use of the Website or reliance on any information provided on the site. Your use of the Website and your reliance on any information on the Website is solely at your own risk.
This disclaimer is not intended to limit the liability of eLi in contravention of any requirements laid down in applicable national law nor to exclude its liability for matters which may not be excluded under that law.
3. PROFESSIONAL OR LEGAL ADVICE
The Website cannot and does not contain professional or legal advice of any kind. The information is provided for general informational and educational purposes only and is not a substitute for professional or legal advice.
Accordingly, before taking any actions based upon such information, we encourage you to consult with the appropriate professionals or legal counsel. The use or reliance of any information contained on this Website is solely at your own risk.
4. EXTERNAL LINKS
The Website may contain or you may be sent through the Website links to other websites or content belonging to or originating from third parties or links to websites and features in banners or other advertising. Such external links are not investigated, monitored, or checked for accuracy, adequacy, validity, reliability, availability or completeness by us.
We do not warrant, endorse, guarantee, or assume responsibility for the accuracy or reliability of any information offered by third-party websites linked through the site or any website or feature linked in any banner or other advertising. We will not be a party to or in any way be responsible for monitoring any transaction between you and third-party providers of products or services.
5. INTELLECTUAL PROPERTY
Unless otherwise indicated, the Website is our proprietary property and for instance all source code, databases, functionality, software, website designs, audio, video, text, photographs and graphics on the Website (hereafter the "Content") and the trademarks, service marks, and logos contained therein are owned or controlled by us or licensed to us, and are protected by copyright and trademark laws and various other intellectual property rights and unfair competition laws.
Except as expressly provided, you are prohibited from copying, reproducing, modifying, distributing, displaying, performing or transmitting any of the Content for any purposes, and nothing otherwise stated or implied in this General Disclaimer confers on you any license or right to do so.
You may use the Content solely for your own individual non-commercial and informational purposes only. Any other use, including for any commercial purposes, is strictly prohibited without our express prior written consent. Systematic retrieval of data or other content, whether to create or compile, directly or indirectly, a collection, compilation, database or directory, is prohibited absent our express prior written consent.
You are put on notice of the copyright for this Website by "European Lithium Institute eLi • ©2021", for which eLi reserves all rights.
Registered trademarks and proprietary names, and copyrighted text and images, are not generally indicated as such on our Web pages. But the absence of such indications in no way implies that these names, images or text belong to the public domain in the context of trademark or copyright law.
Last updated on: October 2021
——————
PRIVACY POLICY
The European Lithium Institute (hereafter "eLi") is processing information about you which constitute "personal data".
The protection of privacy and the security of personal data are of the utmost importance to the eLi. This Privacy Policy (hereafter the "Policy") describes how and for which purposes eLi collects and processes personal data in the course of its activities. When used in this Policy, the term "personal data" refers to any information relating to an identified or identifiable natural person (each a "data subject"). The term "data subject" refers to any natural person of whom personal data are processed by eLi, it being understood that you, as a (prospective) member, supplier, visitor of https://www.lithium-institute.eu (hereafter the "Website") or as any third party, can be a data subject yourself. The Privacy Policy does not apply to information processed about legal entities.
When we process personal data, whether received from the data subject directly or collected through other sources, this processing occurs in accordance with this Policy and in compliance with applicable laws and regulations, including the General Data Protection Regulation ("GDPR").
This Policy is not a contract that we conclude with you but a commitment we make regarding the processing of your personal data and the exercise of your rights as data subject.
1. WHO PROCESSES YOUR DATA?
European Lithium Institute AISBL, whose office is located at 1000 Brussels, Rue Royale 94, Belgium, and registered in the Belgian company register under the number 0751.577.279, is responsible for the processing of your personal data as it decides why and how it is processed, thereby acting as the "controller". In this Policy, "we" or "us" refers to eLi.
You may contact us using the addresses listed at the end of this Policy.
2. WHAT TYPE OF PERSONAL DATA DO WE PROCESS?
From all data subjects with whom we interact, we may process basic identification information such as your name, title, position, company name, email and/or postal address and fixed and/or mobile phone number.
This information may either be directly provided by you, supplied to us (e.g. by one of our members) or obtained from publicly available sources (e.g. from websites of third parties).
When handling your personal data, we only collect and process personal data which is adequate, relevant and not excessive, as required to meet the above purposes; and ensure that your personal data remains up to date and accurate.
For the latter, we may request you to confirm the personal data we hold about you. You are also invited to spontaneously inform us whenever there is a change in your personal circumstances so we can ensure your personal data is kept up-to-date.
You will find below further details on the specific information we are processing based on the most common scenarios.
2.1 When visiting the website
You may access our website without having to disclose any details of your identity. The browser installed on your terminal device automatically transmits information to the server of our website (e.g. browser type and version, date and time of access) to enable connection with the website, including the IP address of your requesting terminal device. It is temporarily stored in a so-called log file and automatically deleted after two (2) years.
The IP address is processed for technical and administrative purposes regarding connection set-up and stability, to guarantee the security and functioning of our website and to be able to track any illegal attacks on the website, if required. The IP address is saved anonymously by removing the last block of characters. We cannot draw any direct conclusions about your identity from processing the IP address and other information in the log file.
We may also process your personal data using cookies. For a complete overview of our data processing, we recommend you to read also our Cookie Policy, which can be found here.
2.2 When registering for events
We regularly offer a variety of events through our website, for which you may register online. Depending on the event's purpose and orientation, personal data such as name, address, email address or payment information will be collected and processed.
Once you have given your explicit consent, we will use your email address to regularly send you selected information about the work in our Institute and/or on other facilities and/or events of the eLi and its members. The subjects and contents of the selected information are determined by the list you subscribed to.
2.3 When using the commenting function
Our website gives visitors the opportunity to leave comments on our web content. Your comments will appear with your name underneath the contribution, which triggered your comment.
If you want to use the commenting function on our website, we ask you to provide us with your name and e-mail address, which we consider mandatory data. Instead of your name, you may also use a pseudonym/alias. The process requires your email address to send your comment. However, we do not publish your email address together with your comment. We use your email address only to inform you of a reaction to your comment.
In addition, we save your IP address when you leave a comment on our website, which will be deleted after two (2) years. This processing is required so that we can defend ourselves in liability cases against accusations of publishing illegal content.
The personal data are processed for as long as the comment appears on the website. We will then delete the data.
2.4 When creating a user account
You can create a password-protected user account on our website.
Setting up the user account requires your first and last name and a valid email address, which we consider mandatory data. These data are processed in order to identify you as a user and create your user account. You may provide additional personal data voluntarily (e.g. phone or mobile number, name of research organisation or company, address, passport, photo, CV, professional discipline or expertise).This information is voluntary and is not required to set up the user account. At no time will the data be made publicly accessible or otherwise misused.
To set up the user account, you must also enter a password you choose yourself. To access your user account, you will need to enter your email address and this password. In your user account, you can view the data saved in your user profile and change it at any time.
We will also use your email address for notification functions, if these are activated.
After your user account is deleted, your data will be deleted to prevent further use except if we are required to observe a longer storage period due to retention and documentation obligations (e.g. tax or commercial obligations) or if you have consented to longer storage.
3. ON WHICH LEGAL BASIS AND FOR WHICH PURPOSES DO WE PROCESS PERSONAL DATA?
3.1 Legal basis for the processing
We are not allowed to process personal data if we do not have a valid legal ground. Therefore, we will only process personal data if:• we have obtained your prior consent; or
• the processing is necessary to perform our contractual obligations towards you or to take pre-contractual steps at your request; or
• the processing is necessary to comply with our legal or regulatory obligations; or
• the processing is necessary to protect your vital interests or those of another natural person; or
• the processing is necessary for the legitimate interests of GBL and does not unduly affect your interests or fundamental rights and freedoms.

Please note that, when processing your personal data on this last basis, we always seek to maintain a balance between our legitimate interest and your privacy. In order to strike such balance, we do not process sensitive data. This data will remain strictly confidential. Examples of such 'legitimate interests' are:

• to benefit from cost-effective services (e.g. we may opt to use certain platforms offered by suppliers);
• to facilitate communications (e.g. we may communicate professional contact details indicating that this person is the contact person);
• to prevent fraud or criminal activity as well as to protect the security of our IT systems, architecture and networks
• to meet our corporate and social responsibility objectives; and
• to assess potential future investments.
3.2 Purposes of the processing
We always process your personal data for a specific purpose and only process the personal data which is relevant to achieve that purpose. For instance, we process personal data for one of the following purposes:
• manage and improve our website (e.g. diagnose server problems, optimize traffic, integrate and optimize web pages where appropriate);
• measure the usage of our website (e.g. by drawing up statistics about the traffic or by gathering information regarding the users' behaviour and the pages they visit);
• improve and personalize your experience and better tailor content to you (e.g. by remembering your selections and preferences, using cookies);
• periodically send newsletter and promotional emails and information which you or your company may find interesting, using the email address which you have provided (if you choose to do so);
• analyse the performance of email campaigns and improve the email delivery services to better communicate with our subscribers;
• monitor and prevent fraud, infringement and other potential misuse of our website (e.g. spam detection);
• storing contact details;
• manage and administer the relationship between eLi and the data subjects;
• manage our IT resources, including infrastructure management & business continuity;
• preserve the company's economic interests and ensure compliance and reporting (such as complying with our policies and local legal requirements, tax and deductions, managing alleged cases of misconduct or fraud, conducting audits and defending litigation);
• comply with any legal obligations imposed on eLi in relation to its activities;
• reply to an official request from a public or judicial authority with the necessary authorisation;
• archiving and record-keeping.
4. HOW DO WE PROTECT PERSONAL DATA?
We have implemented appropriate technical and organisational measures to provide a level of security and confidentiality to your personal data. These measures take into account:
• the state of the art of the technology;
• the costs of its implementation;
• the nature of the data; and
• the risk of the processing.
The purpose thereof is to protect it against accidental or unlawful destruction or alteration, accidental loss, unauthorized disclosure or access and against other unlawful forms of processing.
All your personal data are transmitted in encrypted format, using the widely used and secure TLS (Transport Layer Security) standard. TLS is a secure and proven standard that is also used, for instance, in online banking. You will recognize a secure TLS connection by the additional s after http (i.e., https:// .. ) in the address bar of your browser or by the lock icon in the lower part of your browser. In all other regards, we use suitable technical and organizational security measures to protect your data against accidental or intentional manipulations, partial or complete loss, destruction, or the unauthorized access of third parties. We continuously improve our security measures in accordance with the state of the art.
5. WHO HAS ACCESS TO PERSONAL DATA AND WITH WHOM ARE THEY SHARED?
5.1 Transfers to third parties
We may transfer or give access to personal data to third parties outside eLi to complete the purposes listed above, to the extent they need it to carry out the instructions we have given to them. Such third parties may include:
• third parties who process personal data, such as our (IT) systems providers, website designers and hosting provider, payment services providers, event organisers, email delivery service providers, database and cloud providers;
• any third party to whom we assign or novate any of our rights or obligations under a relevant agreement;
• our advisors and external lawyers for instance in the context of the sale or transfer of any part of our business or its assets; and
• any national and/or international regulatory, enforcement or exchange body or court where we are required to do so by applicable law or regulation or at their request.
The above third parties are contractually obliged to protect the confidentiality and security of your personal data, in compliance with applicable law.
5.2 Transfers outside the European Economic Area
The personal data transferred by us may also be processed in a country outside the European Economic Area ("EEA"), which covers the EU Member States, Iceland, Liechtenstein and Norway. Non-EEA countries may not offer the same level of personal data protection as EEA countries.
If your personal data is transferred outside the EEA, we will therefore put in place suitable safeguards to ensure such transfer is carried out in compliance with the applicable data protection rules. We rely on the adequacy decisions of the European Commission or use agreement with standard clauses published by the European Commission. You may request additional information in this respect and obtain a copy of the relevant safeguard by exercising your rights as set out below.
6. HOW LONG DO WE STORE YOUR DATA?
We will only retain personal data for as long as necessary to fulfil the purpose for which it was collected or to comply with legal, regulatory or internal policy requirements.
For contracts, the retention period is the term of your (or your company's) contract with us, plus the period of time until the legal claims under this contract become time-barred, unless overriding legal or regulatory schedules require a longer or shorter retention period.
Personal data collected and processed in the context of a dispute are deleted (i) as soon as an amicable settlement has been reached, (ii) once a decision in last resort has been rendered or (iii) when the claim becomes time barred.
When the above retention periods expire, your personal data is removed from our systems.
However, if individuals wish to have their personal data removed from our databases, they can make a request as described in Section 0, which we will review as set out below.
7. WHAT ARE YOUR RIGHTS AND HOW CAN YOU EXERCISE THEM?
7.1 Your rights
You have a right of access to your personal data as processed by us under this policy. If you believe that any information we hold about you is incorrect or incomplete, you may also request the correction thereof. We will promptly correct any such information.
You also have the right to:
• request the erasure of your personal data;
• request the restriction of the processing of your personal data;
• withdraw your consent where we obtained your consent to process personal data (without this withdrawal affecting the lawfulness of processing prior to the withdrawal);
• object to the processing of your personal data for direct marketing purposes; or
• object to the processing of your personal data for other purposes in certain cases where we processes your personal data on another legal basis than your consent,
We will review such requests, withdrawal or objection and honour them as required under the applicable data protection rules.
In addition, you also have the right to data portability. This is the right to obtain the personal data you have provided to us in a structured, commonly used and machine-readable format and to request the transmission of such personal data to a third party, without hindrance from us and subject to your own confidentiality obligations.
7.2 Exercising your rights
If you have a question or want to exercise the above rights, you may send an email to info@lithium-institute.eu or a letter at eLi, to the attention of Dr. Andreas Bittner, Rue Royale 94, 1000 Brussels, Belgium, with a scan of your identity card for identification purpose, it being understood that we shall only use such data to verify your identity and shall not retain the scan after completion of the verification. When sending us such a scan, please make sure to redact your picture and national registry number or equivalent on the scan.
If you are not satisfied with how we process your personal data, please address your request to info@lithium-institute.eu or a letter at eLi to the attention of Dr. Andreas Bittner, Rue Royale 94, 1000 Brussels, Belgium who will investigate your concern.
In any case, you also have the right to file a complaint with the competent data protection authorities, in addition to your rights above (e.g. in Belgium the Data Protection Authority, located at Rue de la Presse 35, 1000 Brussels, Belgium and can be contacted by telephone (0032 2 274 48 00) or by e-mail (contact@apd-gba.be). More info can be found on the website (https://www.dataprotectionauthority.be/citizen/actions/lodge-a-complaint)).
8. MODIFICATIONS TO THIS POLICY
We reserve the right to modify this Policy from time to time. Any such changes will be brought to your attention through the Website and/or by other means appropriate to the nature of the change, and will become effective 10 (ten) days after posting unless otherwise stated.
The most recent version of this Policy will be posted on our Website.
Last updated on: October 2021
COOKIE POLICY
This Cookie Policy explains what cookies are and how they are used (hereafter the "Cookie Policy"). It is addressed to the public accessing the Website (hereafter "the user" or "you").
European Lithium Institute AISBL (hereafter "eLi" or "we"), whose office is located at 1000 Brussels, Rue Royale 94, Belgium, and registered in the Belgian company register under the number 0751.577.279, advises the user to read both the Privacy Policy and the Cookie Policy as both are important for the protection of personal data.
1. GENERAL
This Cookie Policy explains how eLi collects and processes your personal data using cookies when you visit https://www.lithium-institute.eu (hereafter "Website"). Cookies are small text files that are saved on the hard drive of a device (laptop, tablet, smartphone, etc.) or on the server of a website and which contain certain information that is collected from your device and sent back to the Website on each subsequent visit so as to remember your actions and preferences over time. Cookies do not harm your device nor do they contain viruses, Trojans or other malware. These information may relate for example, to your language preferences, to the pages you visited, to the order in which you visited these pages and the duration of that visit. We process the data obtained from cookies in accordance with our Privacy Policy, which can be found here.
As you first access the Website a Cookie Banner appears requesting that you accept the use of all non-functional cookies. The Cookie Banner is the cookie warning that pops up when you enter the Website. It also provides access to this Cookie Policy.
We reserve the right to change, supplement or replace this Cookie Policy from time to time. Such changes, additions or substitutions will be brought to your attention via the Website.
2. THE TYPE OF COOKIES THAT CAN BE USED ON OUR WEBSITE
Three types of cookies can be used on our Website:
• Functional cookies
• Analytical and statistical cookies
• Marketing cookies
Functional cookies are necessary for the functioning of our Website. Therefore, you will not be able to refuse them if you wish to access it. For all other types of cookies, we will only place them upon your consent.
You will find below a description of the functioning of the different types of cookies, as well as how you can prevent cookies from being placed, or how you can delete already placed cookies by adjusting your cookie settings.
Cookies have different lifespan. Certain cookies are only used for the duration of your session, and expire after the visit. Others will be for example stored for a period of (2) years. We provide a more detailed description of cookies' lifespan below.
The main purpose of cookies is to improve and simplify your browsing experience of the Website. However, some are used to manage and improve our Website and others for marketing purposes, as further described below.
1.1. Functional cookies
Some cookies are functional and essential for the Website to work properly and provide a good user experience (for example, a cookie that saves language preferences, which are only stored during the duration of your session). It is not possible to refuse these cookies if you want to visit the Website.
Given their technical necessity, these cookies are saved from the moment you access the Website.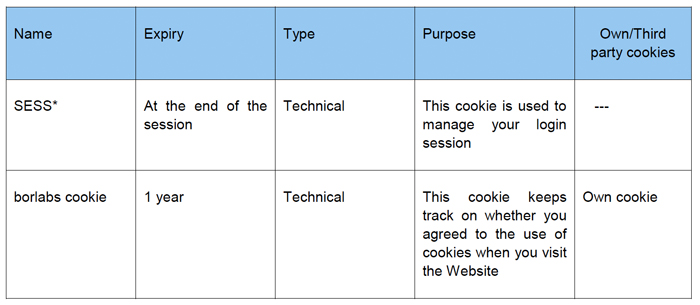 1.2. Analytical and statistical cookies
Analytical and statistical cookies collect information that is intended to give eLi insight (usually via statistics) into how you and other visitors are using the Website (for example, which functions are popular, which are not, etc.). This information can be used to improve the Website and enhance your user experience.
We need your consent for the use of analytical and statistical cookies. You can decline the use of such cookies or, if you have agreed to their use, withdraw your consent at any time thereafter by adjusting your cookies settings.
The analytical and statistical cookies used on our Website are Google Analytics, which help us determining how you and other visitors use the Website, managing the Website (including measuring the usage of the Website, drawing up statistics), and modifying and improving the Website. To do so, they assign randomly generated numbers to visitors to the Website as an identifier. These cookies are used to calculate the number of visits to our Website, the duration of a session and any campaign data for the sites' analytics reports


1.3. Marketing cookies
The marketing cookies collect information relating to your online activities to allow advertisers to provide relevant advertisements.
We need your consent for the use of marketing cookies. you can decline the use of such cookies or, if you have agree to their use, withdraw your consent at any time thereafter by adjusting your cookies settings as described below.
The marketing cookies that eLi uses (provided you consented thereto) are explained below. They are third-party cookies used for a variety of purposes (including to display relevant ads).

2. ADJUST YOUR COOKIE SETTINGS
you can prevent cookies from being placed, or delete already placed cookies, by adjusting your settings in your browser. Help with adjusting these settings can be found on the Website of the browser you use.
Internet Explorer: https://support.microsoft.com/en-gb/help/17442/windows-internet-explorer-delete-manage-cookies
Microsoft Edge: http://windows.microsoft.com/en-gb/windows-10/edge-privacy-faq
Chrome: https://support.google.com/chrome/answer/95647?hl=en
Firefox: https://support.mozilla.org/en-US/kb/enable-and-disable-cookies-website-preferences
Safari: https://support.apple.com/en-gb/guide/safari/sfri11471/mac
For more information about how to manage cookies on your device, you can also consult the procedure provided in http://www.aboutcookies.org.
3. THIRD PARTY COOKIES ON OUR WEBSITE
Third party cookies are cookies that are not owned by eLi. These cookies are set on eLi's Website by data controllers that do not operate that Website. These cookies are put in place by third parties that will process your personal data according to their privacy policy. Therefore, it is important to take into account their privacy policy when consenting to the use of such cookies. you can decline the use of such cookies or, if you have agreed to their use, withdraw your consent at any time thereafter by adjusting your cookies settings as described above.
Articles on the Website may contain embedded content (e.g. videos, images, articles, etc.). Embedded content from other websites behaves exactly as if the visitor had visited the other website. These websites can collect data about you, use cookies, embed additional tracking services from third parties and record your interaction with this embedded content, including your interaction with the embedded content, if you have an account and are logged in to this website. Content from video platforms and social media platforms is blocked by default. If cookies from external media are accepted, access to this content no longer requires manual consent.
With your consent, third party advertisers can put cookies on your browser through our Website to get more information about your browsing activities and to allow them to show you customized advertisements whilst you are in our Website.
4. USERS' COMPLAINTS
If you are not satisfied with how We use cookies and process your personal data, please address your request to info@lithium-institute.eu or a letter at eLi to the attention of Dr. Andreas Bittner, Rue Royale 94, 1000 Brussels, Belgium who will investigate your concern.
In any case, you also have the right to file a complaint with the competent data protection authorities, in addition to your rights above (e.g. in Belgium the Data Protection Authority, located at Rue de la Presse 35, 1000 Brussels, Belgium and can be contacted by telephone (0032 2 274 48 00) or by e-mail (contact@apd-gba.be). More info can be found on the website (https://www.dataprotectionauthority.be/citizen/actions/lodge-a-complaint)).
Last updated on: October 2021